Without a control panel, managing several websites as a website owner is extremely difficult. We will, however, require a customized hosting plan to meet our requirements.
A web hosting control panel is a web-based interface that allows you to manage all of your web services in one place. These web-based control panels can be used to manage email accounts, FTP accounts, file management features, subdomain creation, disc space monitoring, bandwidth monitoring, backup generation, and many more services. Let's take a closer look at each of the 15 most popular open-source/paid control panels, one by one.
1. cPanel

This cPanel host control panel is designed on Unix. The graphical interface makes it simple and quick to manage your website and web hosting services. The automation tools are intended to make a website's workflow easier.
cPanel's features
It has built-in support for VMware, KVM, Microsoft Hyper-V, and VirtualBox, among other virtual machines.
Mail communication is simple, and Apache, BoxTrapper, and SpamAssassin are used to provide comprehensive spam screening features.

2. Plesk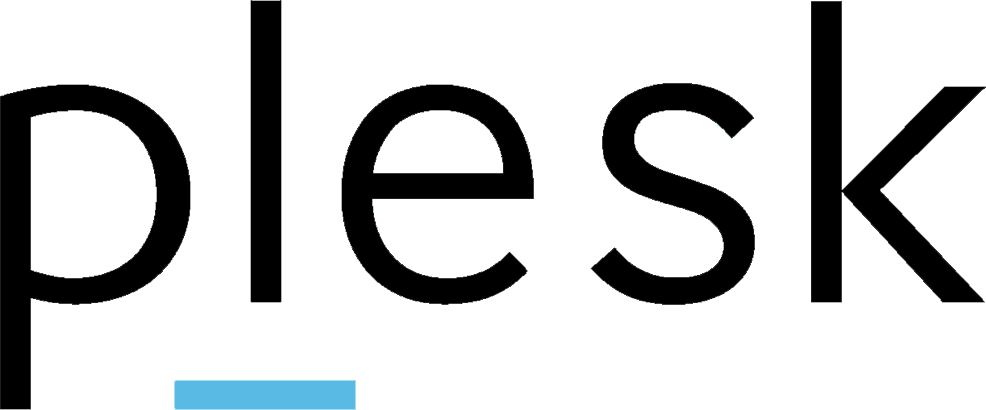 Plesk is a web-based hosting control panel, similar to cPanel, that allows you to manage your hosting account. This panel works with VPS, Shared, and Dedicated servers. Plesk also lets you manage thousands of virtual hosts from a single computer. The control panel allows you to automate a variety of processes, which saves time and money.
Plesk's Features
Plesk comes with over a hundred pre-built add-ons that make managing large-scale websites a breeze.
Because of its great WordPress integration and extensive, configurable toolkits, it's a fantastic choice for WordPress site owners.
3. ISPConfig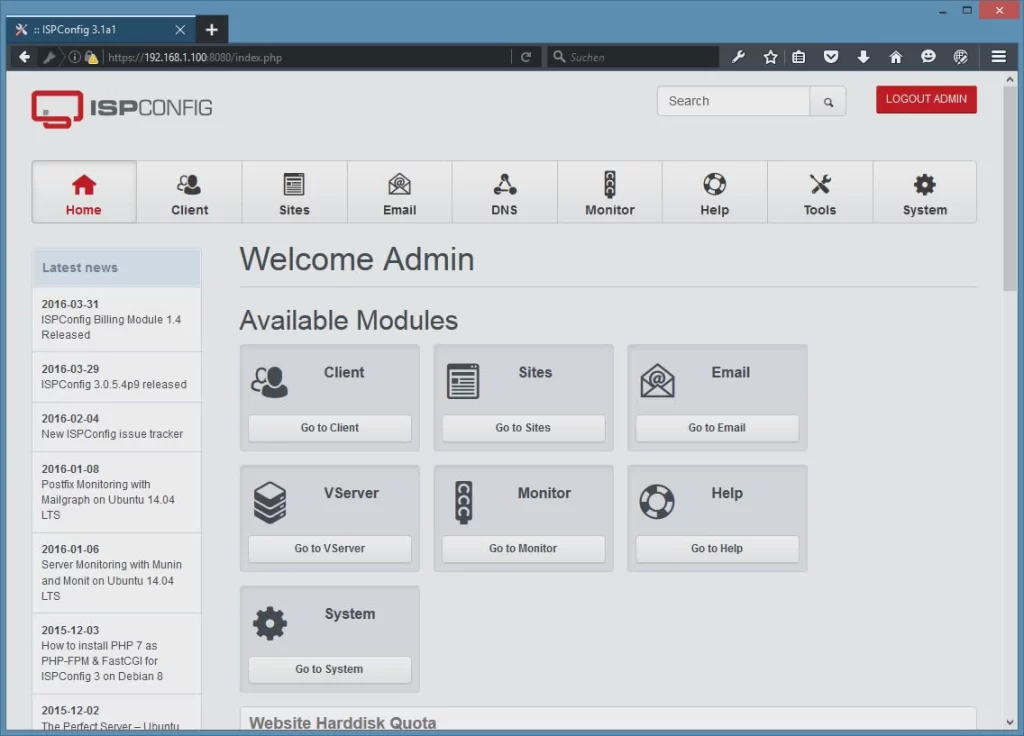 ISPconfig is a multilingual open-source control panel that lets you administer many servers from a single location. The BSD license governs ISPConfig's distribution. FTP, SQL, BIND DNS, Database, and Virtual servers may all be managed with this open-source control panel.
ISPConfig
Using a simple, dedicated control panel, ISPConfig empowers administrators to control multi-web servers.
Using ISPConfig's powerful mailing tools, administrators may effortlessly manage several email identities.
4. Ajenti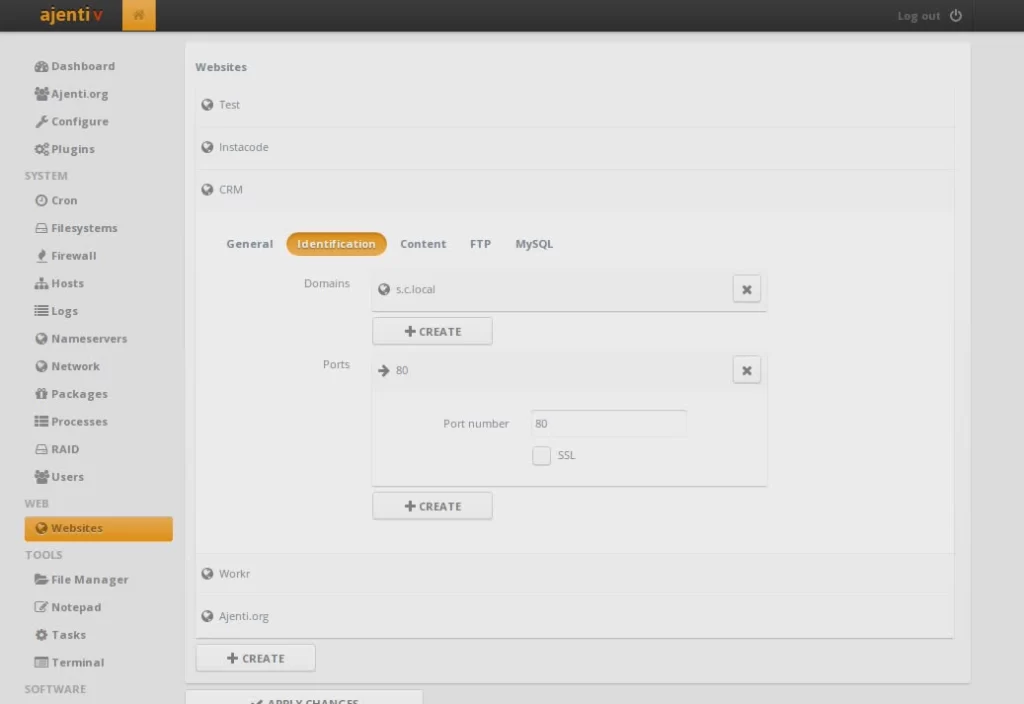 Ajenti is the only open source feature-rich, sophisticated, and lightweight control panel that provides a responsive web interface for managing small server setups and is ideally suited for dedicated and virtual private server hosting. It includes many pre-installed plugins for setting and controlling server software and services, including Apache, and MySQL.
Ajenti Features
Most Linux and BSD distributions, including Ubuntu, CentOS, Red Hat Enterprise, Debian, and Gentoo, have Ajenti installed.
It's a very light and portable piece of software, using only 30 MB of memory and an additional 5 MB every session.
5. Kloxo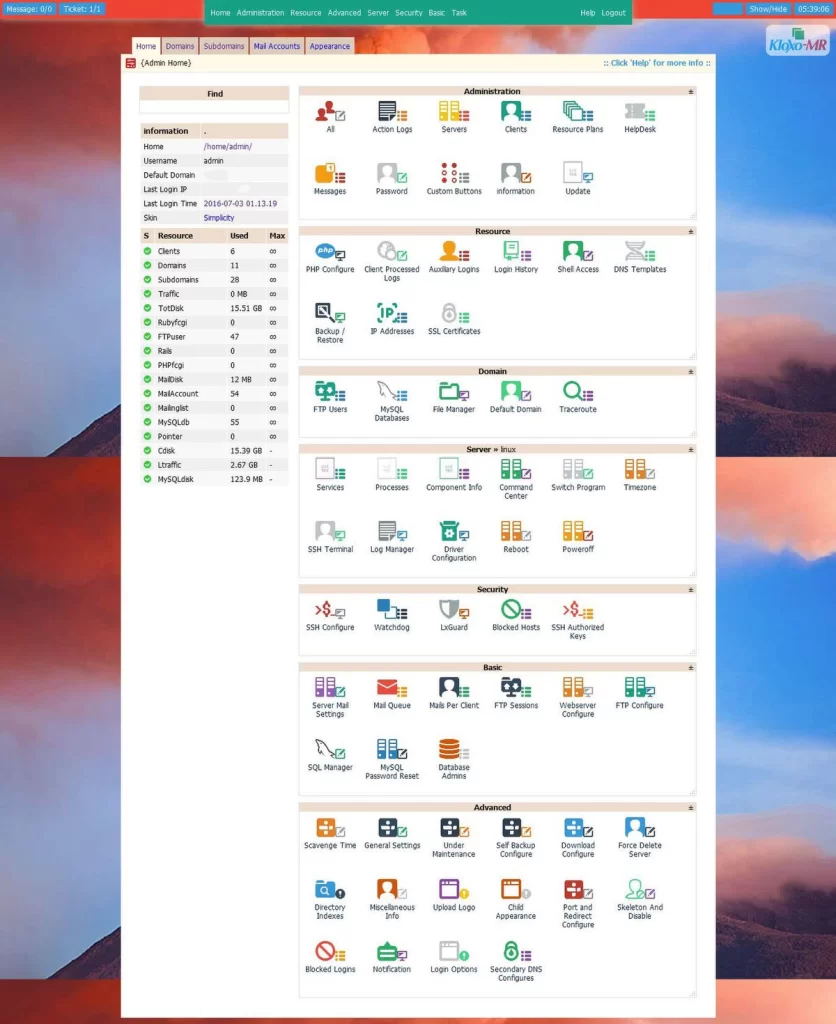 Kloxo is an online control panel for Redhat and CentOS that is both powerful and free. It includes popular control panels such as FTP, spam filter, PHP, Perl, CGI, and more. Kloxo has built-in features including messaging, backup and restore, and ticketing system modules. It assists end-users in managing and running a combination of Apache and BIND, as well as switching the interface between both programs without losing data.
Kloxo Features
It includes support for Apache, Lighttpd, Djbdns, Bind, and FTP, as well as several other common hosting server software.
Kloxo's backup/recovery tools make it simple for administrators to back up their whole hosting environment.
6. OpenPanel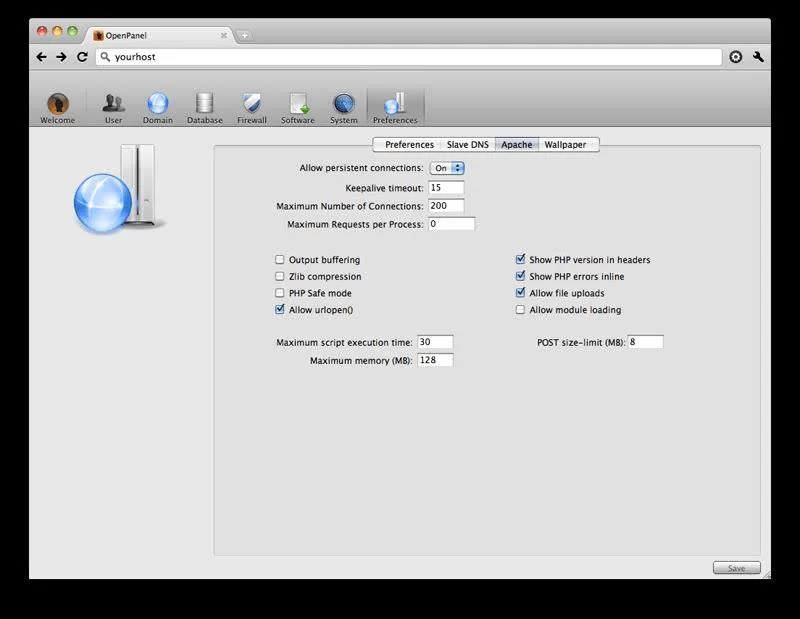 OpenPanel is a web-based control panel that is open-source and licensed under the GNU General Public License. It offers an appealing and simple user interface. It can administer Apache, AWStats, Bind DNS, PureFTPD, Postfix, MySQL databases, IPTables firewall, and Courier-IMAP emails, among other things.
OpenPanel Features
Virtual Apache hosts, PureFTPd chroot FTP accounts, Courier-IMAP hosted mails, and MySQL are all supported natively.
OpenPanel gives administrators access to OpenSSH and delivers a powerful yet flexible Linux iptables configuration.
7. ZPanel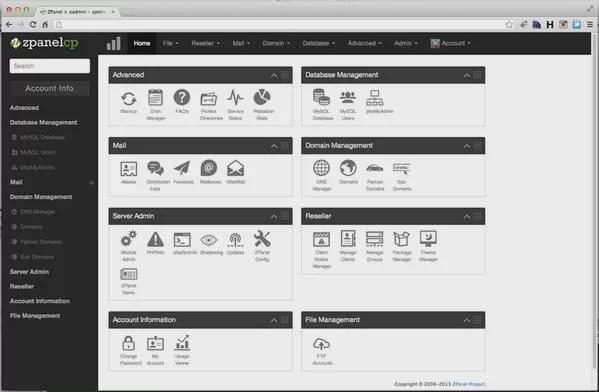 Zpanel is a free enterprise-class web hosting control panel for Linux, UNIX, macOS, and Microsoft Windows, that is simple to install and operate. Zpanel is a PHP-only application that runs on Apache, PHP, and MySQL. It provides a basic set of capabilities that you'll need to run your web hosting business. Apache Web Server, hMailServer, FileZilla Server, MySQL, PHP, Webalizer, RoundCube, phpMyAdmin, phpSysInfo, FTP Jailing, and many other features are included.
ZPanel Features
ZPanel is a user-friendly interface that is easy to navigate and makes remote hosting management a snap.
It includes PHP, Apache, MySQL, and Filezilla, among other open-source tools needed to power web servers.
8. ispCP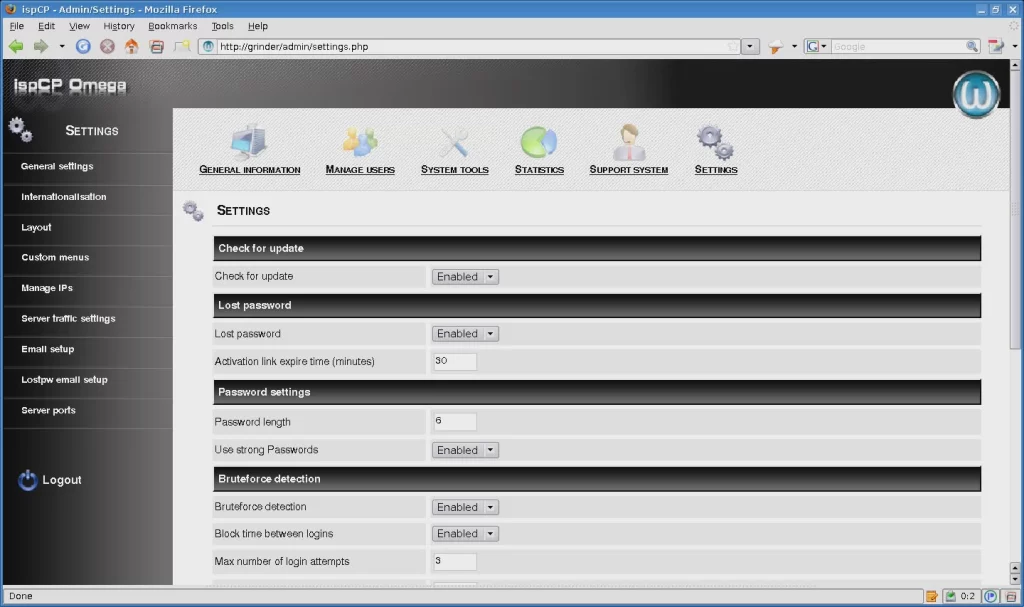 ispCp is a free/open-source project that was created to create an unlimited multi-server control and admin panel. It's a Linux/Unix web hosting server with all the features you'd expect from a professional hosting platform. ispCP is a server management program that allows you to manage all of your servers, including domains, email accounts, FTP accounts, and databases.
ispCP
It includes an excellent ticketing system that enables administrators to automate customer care administration.
ispCP will allow you to quickly create multiple user accounts, resellers, and other remote server-related organizations.
9. RavenCore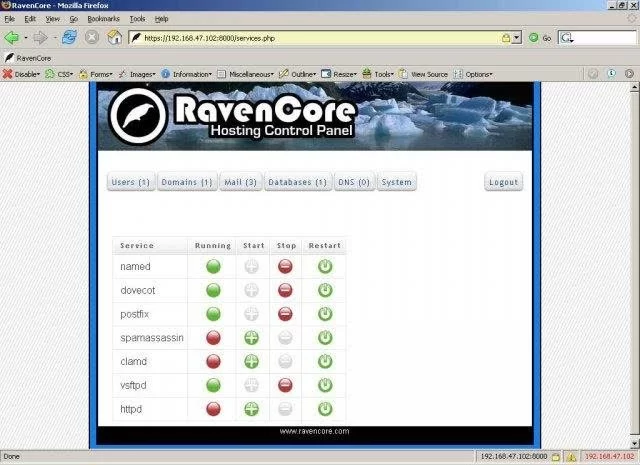 Ravencore is a simple Linux hosting panel that strives to be less inflexible than commercial applications such as Cpanel and Plesk. PHP is used to create the user interface, whereas Perl and Bash are used to creating the backend. MySQL, Apache, phpMyAdmin, Postfix, and Awstats are among the projects included.
RavenCore Features
RavenCore emerges prepackaged with Apache, MySQL, PhpMyAdmin, Postfix, and certain other web server software.
The program is extremely light and resource-efficient, making it a good choice for legacy hardware.
10. DTC

Domain Technologie Control (DTC) is a free and open-source web hosting control panel designed for admin and accounting hosting. DTC may delegate activities like generating emails, FTP accounts, subdomains, databases, and more with this web GUI control panel. It keeps track of all hosting information in a MySQL database.
DTC Features
It has a strong store connection with pre-installed registration forms and payment gateways.
DTC has built-in support for a variety of invoicing systems, including invoices, renewals, and other similar operations.
11. InterWorx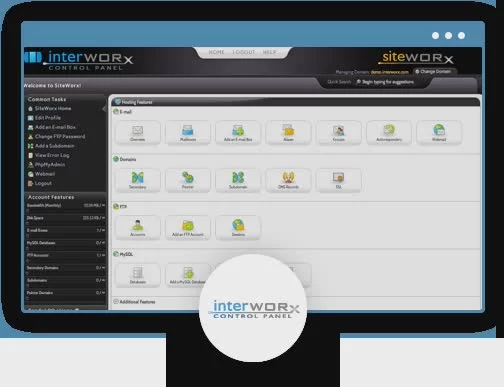 InterWorx is a premium service for managing hosting companies and personal websites. InterWorx has a series of tools that allow administrators to control their servers and end-users to monitor their website's performance. The operation modes of this control panel are mainly classified into two categories.
Nodeworx is a server management tool with an administrator mode.
SiteWorx is a website owner perspective that assists end-users in managing their hosting account and features.
InterWorx Features
NodeWorx can be used by hosting providers to see system services, server information, and other usage statistics in dynamic graphs.
Site owners may simply build and configure domains, users, emails, databases, and other features using the SiteWorx interface.
12. Froxlor

Froxlor is an open-source server administration control panel that may be used to administer personal virtual private servers, dedicated servers, and shared hosting platforms. It's a competitor to the well-known software cPanel or Webmin, both of which provide similar functions for server administration.
Froxlor Features
Froxlor includes advanced SSL support, allowing administrators to designate secure ports.
Admins may quickly switch between and store several PHP environments, as well as specify which one should be used for the specific domain.
13. VestaCP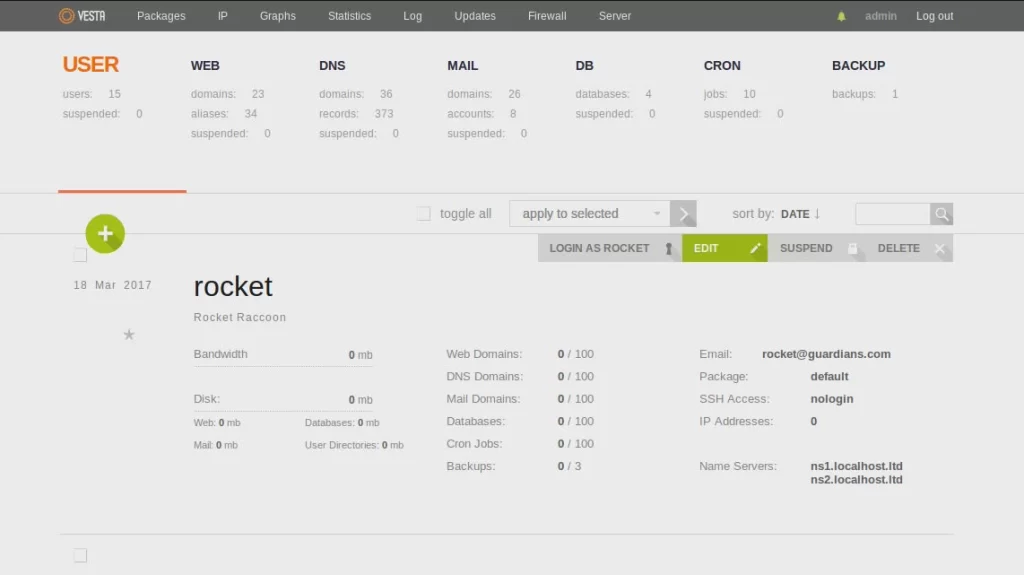 VestaCP, or Vesta Control Panel, is an open-source server administration software that you may use for your hosting company. VestaCP is an open-source web panel containing a number of features for monitoring and modifying Linux systems using a simple and intuitive interface.
VestaCP Features
The web interface is built with PHP and JavaScript and includes a number of customizable web APIs.
VestaCP comes with Fail2Ban, PHP-FPM, SpamAssassin, Exim, and other important server tools pre-installed.
14. DirectAdmin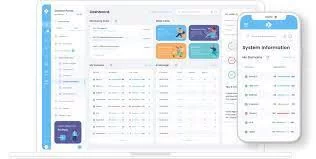 DirectAdmin is a fully accessible web hosting control panel with a graphical admin interface for administering infinite websites, email accounts, and other resources. Because the tasks are automated, DirectAdmin can take care of them for you, allowing you to effortlessly and swiftly set up and administer websites.
DirectAdmin Features
Create and maintain an email account as well as a database.
Make an FTP account for each user.
15. BlueOnyx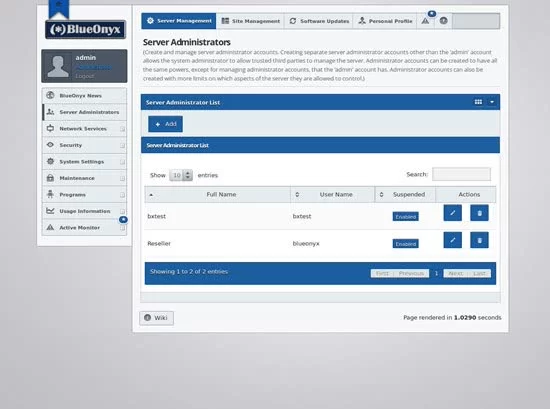 BlueOnyx is a comprehensive server operating system based on CentOS and Scientific Linux. Its goal is to provide a robust open-source hosting panel that can be utilized by hosting resellers without any additional customization.
BuleOnyx Features
Admins can easily download their preferred ISO files and install BlueOnyx on their server.
Chroot jails with SSH or SFTP access, as well as the Nginx SSL proxy, are supported by BlueOnyx.
Conclusion
For the time being, these are the top 15 Open Source/Commercial control panels, ranked by popularity.